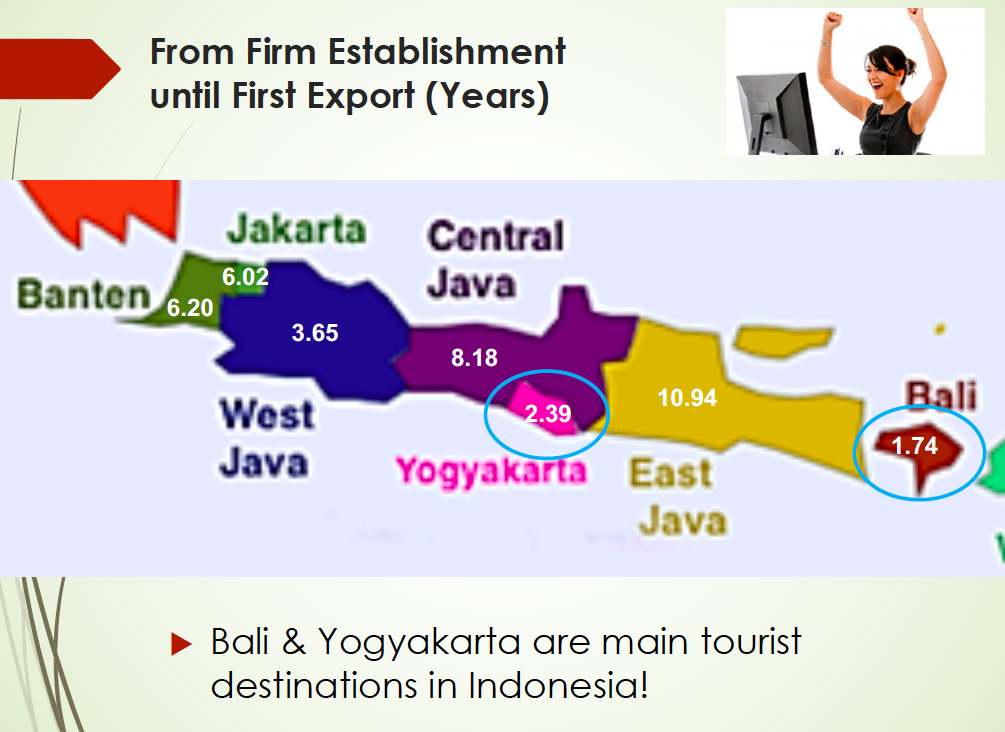 The second FKP seminar hosted by LPEM (Lembaga Penyelidikan Ekonomi dan Masyarakat or Institute for Economic and Social Research) was held on 24 May 2017 at LPEM Building, Jakarta. In this session, Muhammad D. Revindo (LPEM FEB UI) presented a study about internalization of Indonesian. The initial idea was prompted by the relatively low export contribution of Indonesian SMEs despite growing global merchandise trade during 2001-2012 and lower transportation costs. By conducting primary research on this particular issue, Revindo hope to provide a comprehensive investigation on SMEs' exporting activities, which is still lacking in Indonesia.
The research design, including the questionnaire as an instrument, was constructed based upon several theories on firm internalization related to SMEs such as: 1) Stage approach which regards that internalization of a firm can be achieved by succeeding in the local-level and proceed to the next market stage; 2) Born global enterprises, which as oppose to the stage approach, assume that an internationalized firm has already had qualifications to meet the international market demand from the beginning; 3) Network approach which reckons the ability of a firm to connect its production chain to other related firms; and 4) Resource-based view that views firm's comparative advantage in international market as a consequence of having access to a certain resource. Revindo regrouped factors encompassing those theories into inhibiting factors, enhancing factors, and firm characteristics, which were very useful in explaining the results later on.
The survey was carried out in 7 provinces in Java and Bali and gathered 497 respondents which consisted of exporting SMEs, export-intending SMEs, and non-export intenders. The descriptive statistics shows that, from various kind of basic information related to the firm owner's background, exposure to overseas education and training is the most distinctive characteristic between the three groups of SMEs. Interestingly, many SMEs were actually exporting their products to Western Europe and Eastern Asia, further than their initial planned export destination, which was Southeast Asia. The age of SMEs and the product types also play a role in stimulating export activities. It takes around 3.5 to 4 years from firm establishment to first export for SMEs that produce furniture, leather product, and multi-products, which is 5 to 9 years earlier than those who produce agro products and food & beverages. The study also estimates factors influencing export involvement using binary logit regression. The results confirm the importance of owners' knowledge about international platform and their ability to set up international working environment. Additionally, government assistance and firm's involvement in business association significantly induce SMEs to start selling their products abroad.
Deriving from the results above and interviews, the policy implication of this study stresses the need of consistent collaboration among related parties, specifically between central-municipal government and SMEs. However, the government also needs to be knowledgeable of the functions of non-government party in the network to define the appropriate level of intervention for each policy area.